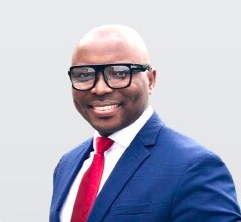 Fidelis Sangye, MSN, PMHNP
-
Fidelis Sangye joined MPP in July, 2021. Providing help to those in need is the cornerstone of Fidelis' psychiatric practice. He believes every patient's experience and story is unique and taking time to listen to each patient with an understanding of their mental illness enables him to arrive at an accurate diagnosis, and allows personalized, evidence-based treatment. Fidelis' mission is to provide confidential, compassionate, evidence-based psychiatric patient care to ultimately improve the health of patients and communities.
Growing up in Cameroon, West Africa, Fidelis has always wanted to be a healthcare provider. When he immigrated to the United States, he saw the golden opportunity to achieve his dream. He entered the healthcare field as a State Tested Nurse Aide (STNA), and today is a dual-certified Family and Psychiatric Nurse Practitioner.  Prior to working at My Psychiatric Partner, he worked as a pain management specialist at Beresh Pain Management, a Psychiatric Mental Health NP at OwlBridge Wellness, and a Registered Nurse at Cincinnati Children's Hospital in Child & Adolescent Psychiatry. He has also worked as an independent nurse provider for the State of Ohio. He currently resides in Liberty Township with his wife and three children. In his spare time, he loves to play soccer, read, and work with his wife to help refugees in Africa and displaced persons in Haiti, and also spends time with his family and friends.
His education and training includes:
Clinical training in Pediatric Primary Care, Adult Primary Care, Family Practice, and Child & Adolescent Psychiatry
Post Masters Certification Psychiatric Mental Health: Northern Kentucky University, 2020
Masters of Science and Nursing: Northern Kentucky University-Family Nurse Practitioner, 2016
Bachelors of Science and Nursing: Northern Kentucky University, 2010
Great Oaks School of Nursing: Licensed Practical Nurse, 2007
Bachelors in Environmental Science & Botany: University of Buea, Cameroon, 2003
This email is only for use by pharmacies, hospitals, doctors offices and clinics, labs, and pharmaceutical representatives. If you are a patient of the above clinician and have a question or concern, please contact the facility nurse line where you receive your care.
Back to all Profiles